How to make perfectly circular sealing stamps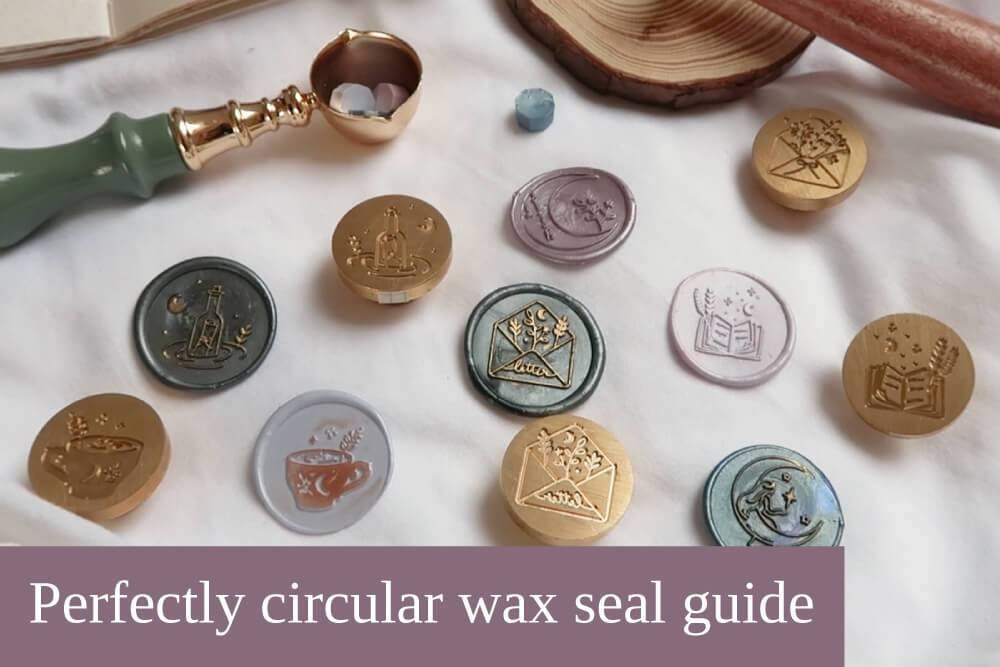 How do you create perfectly round sealing stamps? This is one of my most frequently asked question. Wax is a fickle medium and it is very difficult to predict what your final stamp impression will be like. Every seal is different and this uniqueness is one of the attractions of wax sealing.
However sometimes you require something more uniform, something neater. In this guide, I will share with you some tips in helping you to create perfectly circular sealing stamps.
1) Use wax sealing beads rather than a stick of wax
A stick of wax is the traditional tool for wax sealing. You light the wick and let the wax drip into a small pool, before using the stamp. Controlling how the wax falls is difficult and is precisely why you will not obtain a perfectly circular wax seal. Wax sticks are best to use if you want something more traditional looking with artfully placed wax drips. 
With sealing beads, it is easier to control the amount of wax melted, the temperature of the wax and how the wax is poured, which will all aid in obtaining a more circular impression.
2) Ensure that the wax poured is a couple of millimeters smaller than the stamp head
The amount of wax poured should be a little smaller than the stamp head. This can be difficult to visualise. To help, draw around the stamp head and then draw another smaller circle within it. When you pour the wax, try to aim to fill the smaller circle and try to make it as circular as possible.
3) Continuously pour the wax aiming at the center of the circle
Once you have drawn the circle, continuously pour the wax and aim at the center of the circle. I find this technique gives me most control, however you can also experiment and find the best way for you.
4) Make sure the surface is flat
The surface, where you are pouring the wax on, needs to be as flat as possible. If not the wax will run and spread everywhere . If you are using an envelope, ensure that the flap is stuck down before using a wax seal. If I need perfectly circular wax seals, I will always use a marble coaster. This smooth and hard material provides the best surface to create circular sealing stamps.
5) Make sure you have sufficient wax and it is hot enough 
If the wax is not hot enough, this will cause the wax to be too viscous and will often lead to too little wax being used.
Conclusion 
I hope this guide will help you to create perfectly circular wax seals. Please remember that there are no right or wrong way to make wax seals, just have fun and experiment with them! 
Products used: